It's the most creepy and mind blowing time of the year again!!! Stores are as creepy as haunted houses, the costume party shops are hell like other world to enter, and all of us is typically excited  with the Halloween parties just over the streets. Halloween parties were just unique of them all, and the fun it brings were like volcanic eruptions! yeah really!. These are indeed a different experience. Things might get messed up, but in the end you get so happy, you feel like your on cloud nine. The experiences are way too best and cool and the memories are  life-long pictures that never fades.
So everyone now is preparing for their  trick-or-treat, decorating the creepiest house and lawn, carving pumpkins into jack-o-lanterns, lighting bonfires, the fever pitch games, the pranks, human body parts food, the "oh!!! what's that drink" feeling, the party music, and lets us not forget.. (do you think I forget it?) no way! THE COSTUME!! Everyone is preparing for the costume party and is planning what to wear, a horrible ghost?, a funny or scary cartoon character?,  superheroes? , planning to be the best couple of history? or a clever costume to have a supah dupah fun theme..?. ohhh yesss!! the costumes will make all the difference and Halloween wouldn't be complete without it and there is no way.. as in NO WAY to avoid it. It's Halloween man for holiday's sake! You know what's the best thing to do? get your asses on, hop in to the spirit and and hell plan your unique costumes..
Oh! If you are looking for unique costume ideas, I have save few of them for you. Down below are way very clever halloween costume ideas of our friends. This will make you laugh (or maybe not) but there's nothing to lose if you won't laugh..(hahaha). Just pick your bet and make your self free to comment and add some more pictures.. So I'm here to save your butts and make you forget the spooky feeling cause this will be fun. It's going to be… uhhhmmmm wait for it…hmmmmmm….. HALLOMAMAZING!!!! (oh yes, I said it).
1. I present to you.. the Mona Lisa portrait!! 
source: heavy.com
2. So here he is, the 50 shades of gray.
source: imageboard.co
3. Orayt!! the Pot Head man 
source: lahainahalloween.com
4. The soap and loofah couple..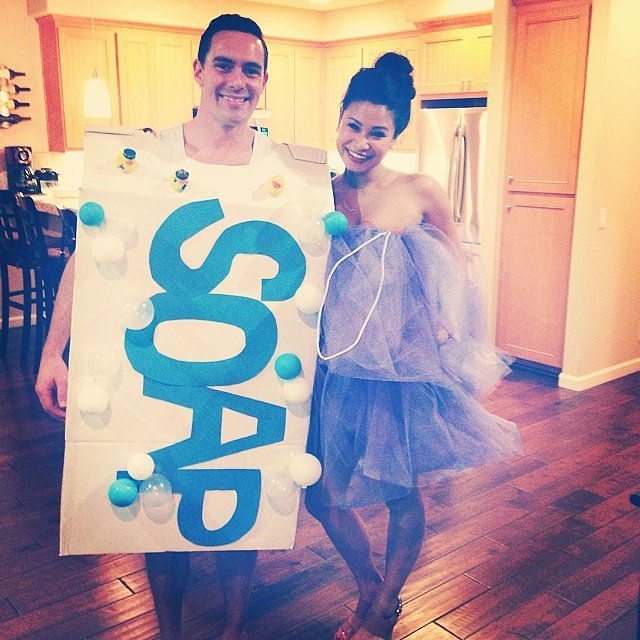 source: Instagram user brooklyngray_blog
5. Dora the wizard explorer 
source: g4tv.com
6. Ready to bite the  Nacho Cheese Chips?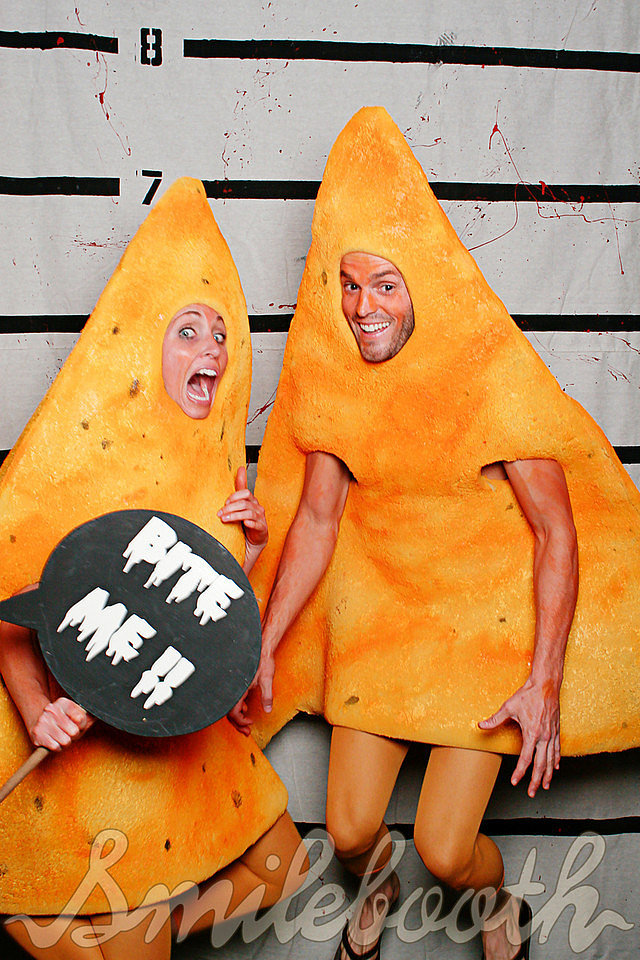 source: Smilebooth
7. literary.. the Ginger Bread Man
source: halloweencostumepictures.com
8. Oh men! so how do you name this costume?
source:halloweencostumepictures.com
9. Let us welcome… the Plato/Play doe the Great!!! 
source: pujagandhi.com
10. Now this is really the worst!! lol
source: www.youtube.com
11. So who is ready for a one night stand?
source: halloweencostumepictures.com
12. oohhhlala.. The Sexy Ghosts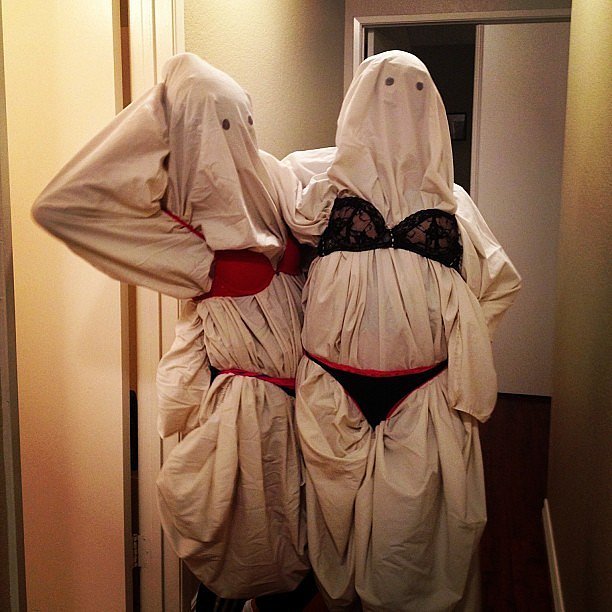 source: Instagram user jackel_felix
13. The "Cereal" killer.. watch out!
source: indulgy.com
14. Oh men! Let the baby out!
source: halloweencostumepictures.com
15. The mama's boy
source: heavy.com
16. The human roller coaster 
source: www.cliparthut.com
17. Put your hands up to the Ultimate Party Animal!
source: heavy.com
18. The Hot Spice Papa
source: ideas.coolest-homemade-costumes.com
19. Ready your tooth for the Tooth Fairy is about to come!
source: www.amazon.com
20. Craving for Oreo? 
source: www.youtube.com
21. Watch out for the French Thief!
source: www.pinterest.com
22. Really girl? the Hawaiian Punch? 
source: getsnazzy.com
23. Now these are the gangsters!
source:  Imgur user auburnkay